We'll Soon Be Home Again
Jessica Bab Bonde & Peter Bergting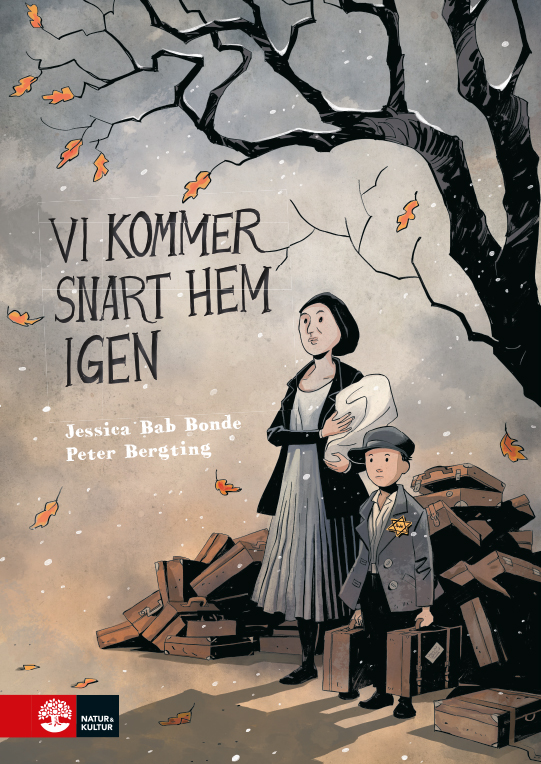 Original Title

Vi kommer snart hem igen

Published

Natur & Kultur, Stockholm 2018

Genre

Graphic novels


Pages

99

Rights Sold

French

Tags
We'll Soon Be Home Again
Jessica Bab Bonde & Peter Bergting
"We were showered and our hair shaved off. That was the last time I saw mom and my younger sisters Magdalena and Judith. Mom was 41 years then. My sisters were 14 and 12 years old." Elisabeth Kischinowsky
Six people's testimonies on the Holocaust are portrayed in comic strip form. Some of them were children then, and are still alive to tell what happened. What happened to them and their families. What they felt. How they survived. What they lost.
They speak about malnourishment, missed education, families torn apart, and their first meeting with a new home – and how you keep on living, despite it all.
Jessica Bab Bonde and Peter Bergting have, based on survivor's stories, created an important book. The visual storytelling makes the book accessible, despite its difficult subject. Beyond the testimonies, there is also a timeline, a dictionary and a teaching manual.
A book that opens up for discussions about the most difficult subject matters: about escape, war, anti-Semitism and xenophobia. It suits children and young adults from 11 years.
Jessica Bab Bonde lives a Jewish life with her family in Stockholm. Her existence in Stockholm is a direct consequence of earlier generations' escape from persecution. She works as a literary agent and has many years' experience from the publishing world.
Peter Bergting is an award-winning comic book creator, illustrator and author. He has, among other, made covers for books by J.K. Rowling and J.R.R. Tolkien.
Press voices


"An indispensable book about the holocaust

/…/ Who better to depict the completely incomprehensible and systematic cruelty of genocide than a child who was there? The form of the graphic novel for children about 9-15 years of age is genius and obvious (as genius things usually are). Although one by now is well informed about the extermination of Jews and the Nazis' ideas, the quintessence is still unimaginable. The author and the seven survivors manage to paint a picture of the improbable of any human being wanting to hurt another so badly, and in such an elaborately evil way. The entire book centers around the question of human value, and as always: How was it possible? In the case of the children, there are more dimensions to it: that your teacher openly mocks you and the wish for you to one day disappear, that a neighbor takes your money, or that you have to go out to buy yellow paper by yourself to make the Star of David you are forced to wear. It's an indispensable book that should be mandatory in all schools, and in all workplaces too for that matter."

- Jenny Byström, Folkbladet