Tsatsiki and the Olive Fight
Moni Nilsson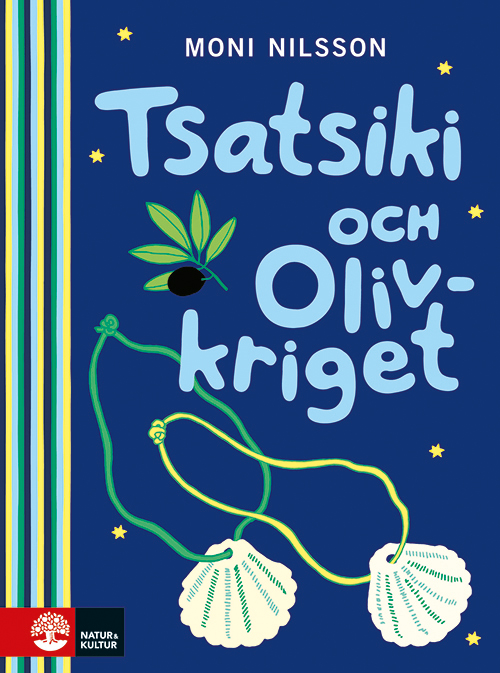 Original Title

Tsatsiki och Olivkriget

Published

Natur & Kultur, Stockholm 2015

Genre

Fiction 9-12


Pages

200

Rights Sold

Faroese

Tags
Tsatsiki and the Olive Fight
Moni Nilsson
"Let's be friends," said Tsatsiki. "I don't have very many friends here either."
Alva opened her eyes and inspected Tsatsiki.
"Maybe" she said. "But I don't become friends with someone that easily. Or trust them."
"But you can," said Tsatsiki. "Trust me."
Finally, Tsatsiki is back in Greece again. But things aren't like they used to be in Agios Ammos. Dad the Squidfisher owes the bank a lot of money and is planning to sell both his olive grove and his hotel. That just can't happen! Who would Tsatsiki be then? You can't be an olive grove owner without an olive grove.
Luckily, he becomes friends with Alva. She isn't afraid of anything and brings Tsatsiki along on the coolest adventures. But when Per Hammar shows up there is trouble. Can you really have two best friends?
Now Tsatsiki has to get his two best friends to become pals, AND save the olive grove. And time is running out. Maybe it's already too late?
Tsatsiki-Tsatsiki Johansson won the hearts of readers all over the world when the first book, Tsatsiki and Mom, was published in 1995. To date, the books have been translated into 17 languages and they continue to gain new generations of fans. The books have won numerous awards, and the first film about Tsatsiki won Best Film in 1999 in Sweden.
Moni Nilsson's portrayal of the everyday life of young Tsatsiki and his somewhat unconventional mother, is characterized by a unique familiar and captivating style, making the books true classics of our time. Together with the release of the long-awaited continuation about Tsatsiki, the earlier books in the series are revised with new covers by Sarah Sheppard. A new film about Tsatsiki premiered in Sweden Christmas 2015.
The Tsatsiki series