Thomas & Emma Play Indoors
Gunilla Wolde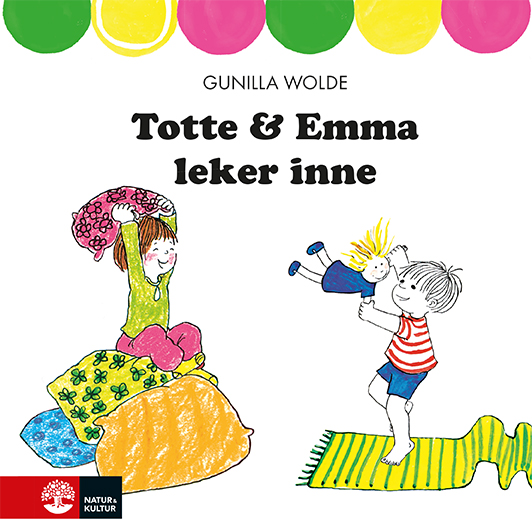 Original Title

Totte & Emma leker inne

Published

Natur & Kultur, 2019

Genre

Picture books
0-3

Pages

32

Rights Sold

Norwegian
Danish

Tags
Thomas & Emma Play Indoors
Gunilla Wolde
Today it's raining. Thomas and Emma decide to stay inside and play. It's fun to play indoors – Thomas builds a high
tower and Emma jumps in the pillows. They splash water in the bathroom.
What do you like to play indoors?
The character Thomas was first introduced to the public in 1969, and the following years nine
morebooks about Thomas as well as ten books about Emma were published. The books deal with
subjects that parents and young children can relate to, making them, 50 years after they were first
published, as popular as ever. Throughout the years, the Thomas & Emma books
have been translated into 14 languages, including English.
To celebrate the 50-year anniversary of the classic series, Natur & Kultur publishes four new books in new formats, two boardbooks fall 2018, and two new picture books in 2019.
In the same series