The Boy with the Puppy Eyes
Jonatan Järvi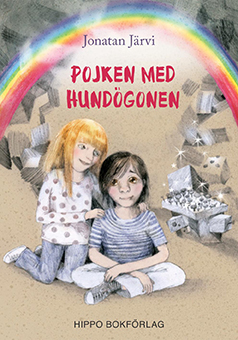 Original Title

Pojken med hundögonen

Published

Hippo, 2016

Genre

Fiction 9-12


Pages

142

Tags
The Boy with the Puppy Eyes
Jonatan Järvi
Stig's parents argue about everything they find important: jobs, time and order.
When Stig is forced to spend an entire summer vacation with his uncle's family in the country, everything is different. They think adventures, fantasy and exciting inventions are more important than neck ties and calendars. Stig learns how to ride on the family rhino and to slalom in the middle of summer, for breakfast he gets jelly rats and inventor drink and he finds a true friend – his cousin Lina.
Jonatan Järvi debuted as children's book author with Rosengårdskungen /The King of the Suburbs in 2015. In his books he very often investigates how fantasy affects reality – and the other way around. When Jonatan doesn't write he works as a project manager within the visual arts.
Books by Jonatan Järvi
Press voices

"The Boy with the Puppy Eyes is a book to love, you can either read it alone or read it aloud to a way too grown-up and orderly unsympathetic parent." BTJ