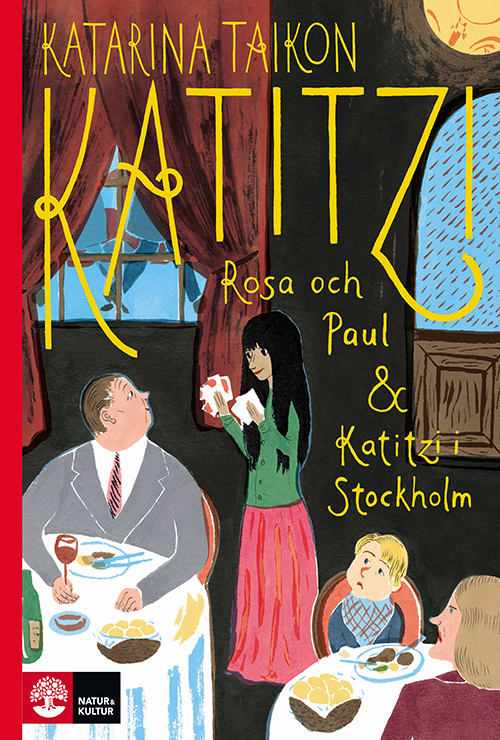 Original Title

Katitzi, Rosa och Paul & Katitzi i Stockholm

Published

Natur & Kultur, Stockholm 2015 (First edition published 1971)

Genre

Fiction 6-9


Pages

170

Film Rights

Kärnfilm AB

Tags
Katitzi, Rosa and Paul & Katitzi in Stockholm
Katarina Taikon
Author and human rights activist Katarina Taikon wrote 13 books about the young Romani girl Katitzi and her family, between 1969 and 1980. The stories depict questions of injustice, ignorance and exclusion through the eyes of a child. The books about Katitzi have been loved by generations of readers and are now published in new editions, carefully revised by writer and journalist Lawen Mohtadi in collaboration with Katarina Taikon's daughter Angelica Ström. Each new edition consists of two of the original books, and have been given new illustrations by Joanna Hellgren, celebrated illustrator and comic book artist.
It's winter. Katitzi is now 11 years old. She lives with her family in a camp in Sköndal outside Stockholm. There she is playing in the woods with her friends Mauritz and Marianne. But in the shadow of the children's play, father Taikon is worried. There is war in Europe. Katitzi and her family, who don't get any ration cards, start to find it very difficult to make a living. A day Katitzi decides to help by selling Christmas cards. She takes the bus to town and buys postcards for 10 cents each at the department store Åhlen & Åkerlund.
"Poor little thing, are you a refugee? Here you get some money," says an old man when Katitzi asks if he wants to buy her Christmas cards.
Then Katitzi has an idea.
The Katitzi series
Press voices


"Republished Katitzi – painful and relevant children's literature" Uppsala Nya Tidning

"Katitzi shows everyone the power of children's books" Östgöta Correspondenten

"It is an engaging and exciting read, I laugh – and I cry […] Katarina Taikon captures sensory impressions just as intensively as you experienced them when you were young – how it smelled, tasted and felt right down under your skin. It makes the story of Katitzi something more than just a testimony of being Romani during the 1940s. There's also much joy and love in the everyday realism. And Katarina Taikon always takes the side of the vulnerable, whether they speak Romani or not." Svenska Dagbladet

"Katitzi is just as captivating today […] It's good that they're now being republished, they are needed. Maybe now more than ever?" Västerviks-tidningen