Josh, 5 years
Ellen Karlsson & Monika Forsberg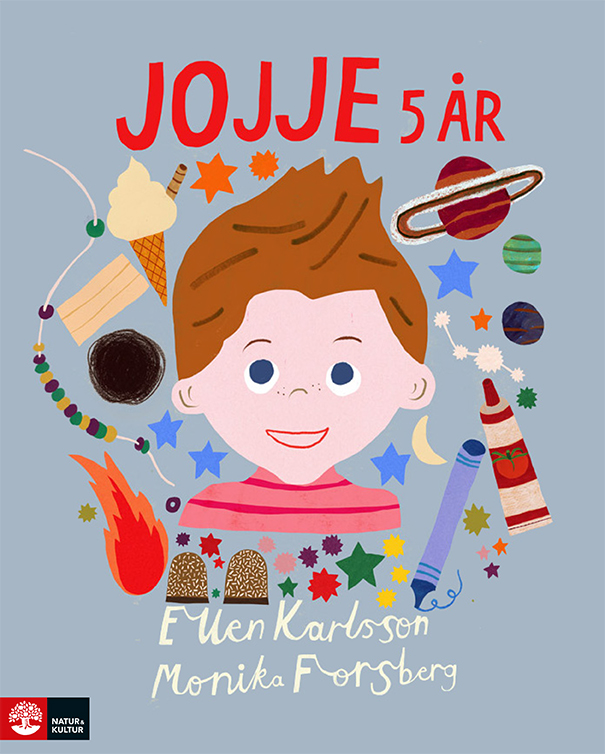 Original Title

Jojje, 5 år

Published

Natur & Kultur, 2018

Genre

Fiction 6-9


Pages

64

Tags
Josh, 5 years
Ellen Karlsson & Monika Forsberg
Now you're about to hear about Josh and what he does every day. Not all days, but for one week at least. Much can happen in a week. Josh moves from his yellow room at mom's house to his green room at dad's, for instance. He finishes a space drawing (with all the planets), he makes pearl necklaces at preschool with his best friend Uma, he fights and makes up with his favorite teacher, makes tomato soup although he hates it, he sees smoke coming from the building next door, he hurts himself and gets a band-aid and rests at home for a day. And when things get tough, it helps sleeping close to dad.
The book about Josh is the first part about the children at the preschool The Sea. In the group Seagull there are ten other children besides Josh and Uma, and the two teachers Izla and Freddie.
Ellen Karlsson is a Swedish author and publisher. She debuted in 2013 with Snöret, fågeln och jag,
for which she was awarded the August Prize. Monika Forsberg is a Swedish illustrator and designer. She moved to London to study animation at the Royal College of Art in 1995 and she still lives there today. She has worked for clients like eeBoo, Anthropologie, Unicef, RedValentino, NY Review and Quarto Publishing. Her images are a mix of hand-painted images and digital collage.