Freddy Fixer's Big Book about Machines
George Johansson & Jens Ahlbom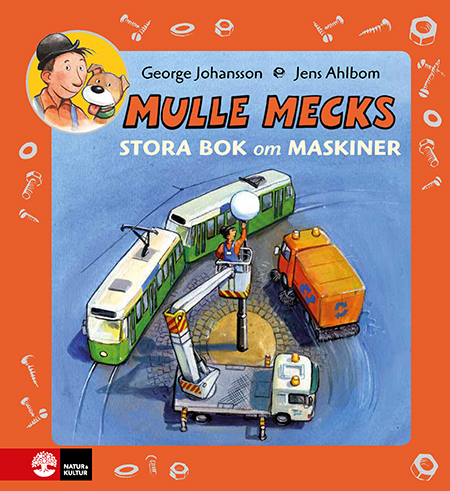 Original Title

Mulle Mecks stora bok om maskiner

Published

Natur & Kultur, Stockholm 2018

Genre

Non fiction
3-6

Pages

68

Tags
Freddy Fixer's Big Book about Machines
George Johansson & Jens Ahlbom
For 25 years, Freddy Fixer and his dog Buffy have built cars, machines, fixed with airplanes and boats. This is celebrated with two new anthologies.
Freddy Fixer stands for curiosity, inventiveness, ingenuity and adventure. He is not afraid if unconventional thinking or trying new ways. For him, there are no scraps, only old things that can be put to new use. When he isn't building or fixing, he is helping out his friends where he lives. Among them are the recycling expert Figge Ferrum, teacher Mia Minardi, market-garden owner Viola Wallmark, gas station and energy expert Daisy Diesel, venture capitalist and businesswoman Emma Entrepreneur, and many more. Welcome to Freddy Fixer's world!
Since the first book, Freddy Fixer has captivated the hearts of young mechanics with his expertise on vehicles, machines and other gadgets. His matter-of fact personality makes learning fun and easy.
Having been translated into many languages, this popular character is a man of many names: Willy Werkel, Mik Mekanik, Freddy Fixer, Gary Gadget, Masa Mainio, Meistri-Märten, Martin Mekk, Karel Klus etc …
Other books about Freddy Fixer