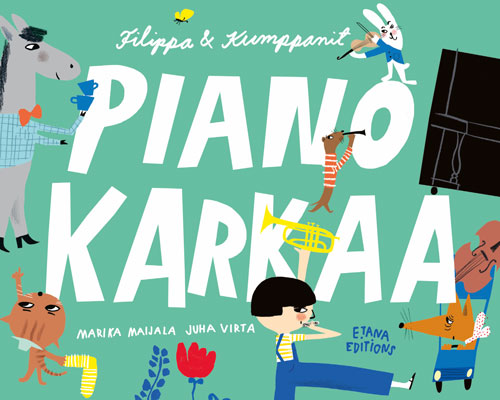 Original Title

Filippa & Kumppanit – Piano karkaa

Published

Etana, 2015

Genre

Picture books


Pages

40

Rights Sold

Swedish
Korean
World English
Spanish
Gaelician

Tags
Filippa & Company – The Piano (Series)
Juha Virta & Marika Maijala
Follow Filippa and her friends as they are take on new adventures.
---
Filippa & Kumppanit – Piano karkaa/ Filippa & Company – The Piano (2015)
Filippa and her friends find a piano in their backyard. Each of them wants the piano. André the donkey would use it as a coffee-table, Snoozy the cat would take a nap in it. Filippa simply would love to play her favourite song on it. At the same time the pianist is missing his piano, and the conductor is missing his socks.
Filippa & Kumppanit – Kissa katoaa/ Filipppa & Company – The Lost Cat (2017)
An amusement park awaits them with crooked mirrors, mountains of wonderfully scented pancakes and a magic show. They meet the magician's assistant, Rabbit, who has a great problem. The magician has disappeared! Filippa, her friends and the Rabbit step in to replace the Magician but their vanishing trick turns out so well that Snoozy the cat goes missing too. Will they find her and the magician before the magic show ends?
Filippa & Kumppanit – Villit Numerot Filippa & Comapny – Whimsical Numbers (2018)
A witty and suprising take on numbers, Whimsical Numbers is the first small format book in the Filippa & Friends series for the very young readers.
Juha Virta's clever and very short texts combined with Marika Maijala's illustrations create a new world of numbers full of surprises.
Press voices

"The Great Escape is one of those rare children's books, that both children and adults want to read just as much over and over again."
– Saara Kekäläinen, children's book critic

"The most beautiful book of the year 2015 ."
– The Finnish Book Art Committe

Awards

White Raven 2016