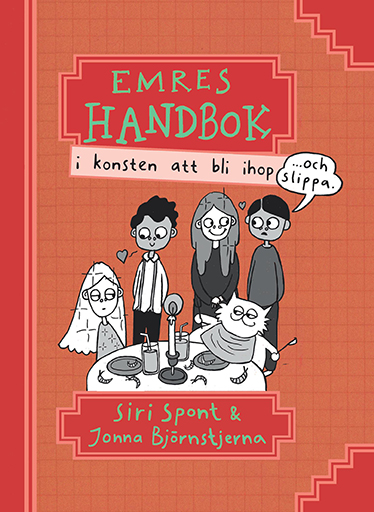 Original Title

Emres handbok i konsten att bli ihop ... och slippa.

Published

Hippo, 2018

Genre

Fiction 6-9


Pages

144

Tags
Emre's Manual in the Art of Dating
Siri Spont & Jonna Björnstjerna
"Diary of a Wimpy Kid" set in the high-rise suburbs!
Ömer is head over heels about Angela – the new girl in class. He calls her "Angel". Ömer wants Emre to also fall in love with someone, so they can go on a romantic double date together. As often does, things become chaotic, and not as romantic as Ömer expected. And Emre can't really tell Ömer that he'd rather not go on a date at all.
The fifth book in the popular series about Emre and Ömer! In the earlier books, readers have joined Emre on his ventures to make friends, become famous, and throw a party. So far, the first two titles have sold more than 10,000 copies in Sweden. The books' fun and playful layout, and numerous illustrations make them appealing even to the most reluctant readers.
In the same series: