Little Big Story About Tomorrow
Réka Király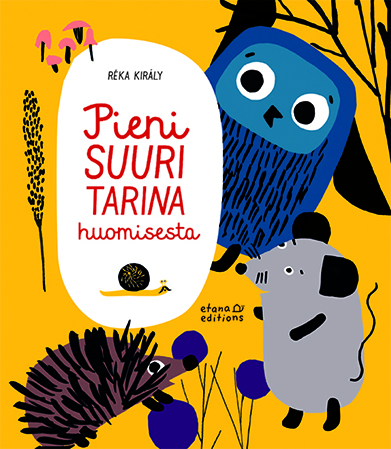 Original Title

Pieni suuri tarina

Published

Etana Editions, 2017. Originally published by WSOY, 2013.

Genre

Picture books


Pages

32

Rights Sold

Polish
Simplified Chinese
Korean
Spanish
Catalan


Tags
Little Big Story About Tomorrow
Réka Király
What does tomorrow mean? This charming picture book asks when does tomorrow start, and how can you tell since every day is already today?
Owl is confused . He's – obviously – a bit of a night owl and can't tell when tomorrow begins. Mouse, Hedgehog and Rabbit try to explain. But does tomorrow begin in the middle of the night, at a certain time in the morning, or not until you wake up?
A colorful book both illustrated and written by Réka Király takes a fun, fanciful approach to thinking about time from different perspectives.
A Little Big Story About Tomorrow is the first book of the series. It has been translated into Portuguese, Chinese, Korean and Polish.
Books in the same series
Press voices

The book's illustrations are lively and unique. The colour-saturated fullspread illustrations are injections of energy for evening moments." – Savon Sanomat.